Taxi from Lisbon to Obidos – 24/7 Online Bookings
Either from Lisbon airport, or from any hotel in Lisbon. If you want to visit Obidos you can count on us! We promise you a taxi service of the highest quality!
About our taxi company
Táxis de Lisboa is a licensed taxi company that transports their clients from the city of Lisbon (with either the pick up at the airport or at any accommodations in the portuguese capital) to any place of Portugal.
The taxi route from Lisbon to Obidos is one of our routes that our drivers are accustomed to carrying out.
Why us

Modern & Secure taxis;
Our taxi fleet is made up of recent vehicles in perfect condition to carry passengers. In Portugal all taxis are obliged to carry out inspections annually and our taxis does not escape the rule. In addition to that, we perform periodic inspections in order to detect any type of mechanical anomaly in our vehicles.

Drivers with decades of Experience;
When you book a taxi from Lisbon airport to Obidos you can count on a highly professional driver duly licensed to drive, that will wait for you at the Lisbon airport, or if you want your pick up point to be in a hotel in Lisbon he can also pick you up there.

No taxi queues at Lisbon Airport
Avoid the confusion of the airport and the queues to catch a taxi and make your taxi reservation online.
If your pick up point is at Lisbon airport, online booking makes you not have to wait for a taxi on the line. During some periods of the year it can even be chaotic.
Our driver will wait for you at the designated time next to the Vodafone store and he will have a card showing the name that you used in the online reservation.

Free Wi-fi, water and air conditioning on board
Our taxis are well equipped, especially with free 4g internet, water, and air conditioning. You can also charge your mobile devices (mobile phones, tablets) through our USB inputs.
How we perfom the route from Lisbon to Obidos?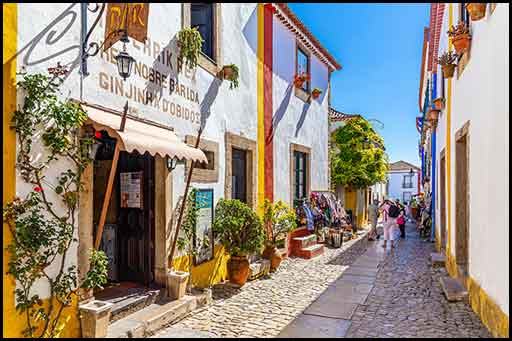 All our taxi routes are always made by the safest roads. Although the quality of the roads in Portugal in general is of great quality, there are always less safe roads. We almost always use the motorways because of their safety and also because we get to the destination faster.
Either from Lisbon airport or from any hotel in Lisbon, the taxi from Lisbon to Obidos is made by the A8 and A21 highway. We use the A8 for about 82 kms till the Quinta da Serrada in which from there we move to the N8 (National Road number 8) and we travel 3 kms until arriving at Obidos.
This taxi trip takes 70 minutes and the traffic conditions are practically always good. Generally, there is never a large volume of road traffic, except to leave Lisbon airport, but nothing to worry about.
What is the taxi cost from Lisbon to Obidos?
The taxi price from any point in Lisbon to Obidos costs 96 euros and this price already includes all expenses with VAT, tolls, luggages, extras etc… This price is per vehicle and not per person, and is associated with a taxi of 4 seats.
But you can also make a reservation for our taxis of 8 seats, these also have a fixed price with all expenses included of 139 euros.
There are any stops in the middle of the trip?
No. Our taxis are for private use, we do not mix customers in the same taxi other than the relatives and friends of those who make the online reservation.
If you are referring to small stops at motorway service area to rest or drink a coffee in the middle of the trip, we also do not advise since the trip is relatively fast and comfortable, performed on quality roads. but if you want, you can always tell the driver.
---