Taxi from Lisbon Airport to Peniche – 24/7 reservations
Peniche is one of the best surf spots in Europe, offering excellent surf conditions all year around and it is visited by all kind of surfing enthusiasts from beginners who are still learning surfing techniques to the most experienced athletes.
If you are looking to book a reliable taxi service to take you to Peniche then you can count on us, our taxi booking process is simple and fast, and the driver will be waiting for you at the arrivals area of ​​Lisbon airport with a sign showing the name you used in the reservation.
We can pick you up at Lisbon airport or at any local accommodation in the area of Lisbon.
Taxi is the fastest way to reach Peniche, or the other main accommodation areas belonging to Peniche, such as Ferrel and Baleal.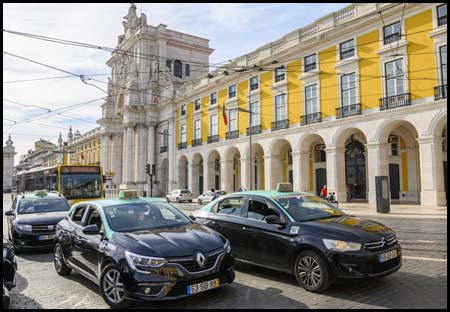 Either from the centre of Lisbon or from Lisbon airport, we can provide you a direct door-to-door connection between Lisbon and your accommodation in Peniche.
Fixed rate.
Our price to this route Lisbon-Peniche is fixed at 107 euros, with all fees already included in this price. We always choose the road that allows us to reach Peniche the fastest, and also the safest road.
This is the normal taxi price during the lowest fare, at certain times of the day, or on certain days of the week the taxi fare is higher, however we keep the price equal to the lower rate at all times.
Modern and properly cleaned taxis.
We take the hygiene of our taxis seriously, as this is one of the most important factors for a comfortable trip, especially when it comes to a long trip like from Peniche to Lisbon. Beyond the state of cleanliness, our vehicles are modern and meet all the safety criteria required by Portuguese regulations. They are officially inspected annually and have valid insurance.
Avoid taxi queues at Lisbon Airport.
Perhaps one of the biggest advantages. If you choose to catch a taxi at the taxi rank on Lisbon airport you will need to wait in a queue so that there is order at the exit of the taxis to the road, this can take 40 minutes or more, depending on various conditions.
Experienced taxi drivers.
The driver who will guide you from Lisbon to Peniche is a properly licensed taxi driver and we have strict criteria for admitting drivers to work with us. We do this with the aim of providing a taxi service with maximum safety and efficiency.
Enjoy free Wi-Fi during the trip.
We offer free Wi-Fi during the entire trip so you can turn off your mobile data and enjoy free internet. We also have bottled water available to all passengers, entirely free.
What is the cost of a taxi from Lisbon airport to Peniche?
The normal taxi price from Lisbon airport to Peniche using the fastest route is 107 euros for a 4 seats taxi. However, during special days, such as weekends, holidays, and also at night time on working days this value increases for 123 euros.
Our taxi fare is fixed on 107 euros, no matter the day or time.
How can I pay my taxi trip from Lisbon to Peniche?
The booking process is free, we do not ask for money in advance, you will only have to pay for your trip at the end of it, and the payment is made to the driver in cash.
What kind of road is used in the taxi trip from Lisbon airport to Peniche?
There are two ways to reach Peniche from Lisbon. The first one is through A8 and the other one through A1.
A8 and A1 are both highways with excellent quality, however if you are looking to pay less and at the same time have a faster arrival to Peniche, then you should opt for the A8, which is 19 kilometers shorter than the trip on the A1.
We use the A8 because it is a short trip, which means you will also pay less because we drive fewer kilometers.
If you opt to take a random taxi at the taxi rank on Lisbon airport instead of us, then make sure to tell the driver to go through A8, some drivers to make more profit go through A1 because the distance is greater.
How much time it takes to reach Peniche from Lisbon through taxi transportation?
Takes about 1 hour and 10 minutes to travel a distance of about 100 kilometers, through the A8 highway.
There are no stops during this itinerary, as the trip from Lisbon to Peniche is not too long. We usually only add stops to our itineraries on trips that take more than 2 hours to complete.
There are high traffic periods during the taxi trip from Lisbon to Peniche?
No. Fortunately, there is never any road traffic on the way from Lisbon to Peniche, as the northern part of the district of Lisbon is much less populated than the outskirts of the city of Lisbon.
How to identify taxis in Lisbon, Peniche and Portugal?
In Portugal all taxis have the same color, except in the islands, black and sea green, these are the main colors of taxis in Portugal, exactly the same colors that we use on our website.
There are some beige taxis, but it is extremely difficult to find one in this color since it is an old color already in disuse.
Surfing Tips
Did you know that this famous surf spot was an island until XV? Peniche was a circular island separately by about 7 kilometers from mainland Portugal.
What is the best month to visit Peniche?
There are surf conditions all year around, however, it all depends on your surfing level.
If you are an intermediate or a pro we recommend you November-April.
During May-October for all experience levels.
If you are a pro and want big challenges then try Supertubos or Papoa during November-April.
How is the water temperature in Peniche during the year?
You will need a wetsuit during all year. In summer, during July, August and September a 2mm or a 3/2mm wetsuit is recommended. The water temperature during this period is between 19ºC and 22ºC (66-72ºF).
In winter, the water temperature drops significantly to 14ºC-16ºC (57-61ºF). So, you will need some surf booties, gloves and the wetsuit should be 4/3mm or 5/3mm.
What are the best beaches for surfing?
Well, there are many… In the Baleal area you have Prainha and Gigi (on this one be wary because there are some sand-covered rocks), both are perfect for beginners. In this area you will also have the Cantinho da Baía for intermediates.
Close to Peniche you have the famous Supertubos for advanced surfers, and Papoa, also for very experienced surfers.
And right next to the Supertubos, there is Bananas, which is recommended for intermediate level surfers.
On a final note, we hope you have a good stay in Peniche and have fun surfing, or if you are not into surfing, then relax and see the beauty of Peniche waves, we hope that our information about the taxi trip from Lisbon to Peniche has been useful to you, book your taxi with us, or just take into account our tips to enjoy Peniche in the best way.
---