Taxi from Lisbon to Fatima
Book now your taxi from Lisbon to Fatima! We can pick you up in the Lisbon Airport or on your hotel in Lisbon. The return trip from Fatima to Lisbon airport can also be done by us!
Our company
We are a portuguese taxi company and we transport passengers to any place in Portugal using the traditional Portuguese taxis (with the colors black and sea green).
As a firm fully licensed for taxi transportation we have all the compulsory insurance for this activity. But do not worry! All drivers are experienced and work with us for several years. Before starting their professional activity they were subject to a period of professional training in which they were successfully approved!
Quality is our priority


Vehicles in good condition
All our vehicles are very recent taxis, clean, with air conditioning, free Wi-Fi and water on board. Our vehicles have capacity for 4 passengers and 4 suitcases, however we can also have vehicles with greater capacity. Contact us if it is the case.

Professional drivers
All our drivers are friendly and ready to help you with your luggage or any other problem. All our drivers had a period of 120 hours of training in order to be able to perform their function in the best way.

Avoid queues to catch a taxi
In addition, this booking also allows you to save time and gives you more comfort, as you will not have to wait in line to catch a taxi. At some point of the year it can be quite uncomfortable with long queues to catch taxis.
Private Transfer
The taxi is only shared with people who go with you, whether it's family or friends, and the driver will track your flight and will be waiting for you with a sign with your name next to the arrivals area of Lisbon airport, or next to your Hotel in Lisbon.

Service Door to Door
More direct transportation is impossible! Our driver will pick you up from the Lisbon Airport or your Hotel in Lisbon and he will take you directly to the door of your Hotel in Fátima.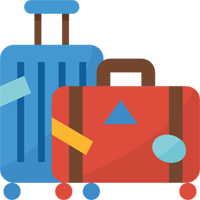 Confort
Avoid walking with your luggage from side to side. With our service you just have to put your luggage inside the taxi's luggage compartment, and then go directly to your Hotel in Fatima.
---
Frequently asked questions
How to make the online booking?
The online booking of a taxi from Lisbon to Fatima is the best way to guarantee a comfortable arrival to the airport of Lisbon, avoiding the long queues of waiting for taxi and guaranteeing also a service of excellence for which we are proud to describe ourselves.
The reservation is simple and fast! Click on the big "Book Now" button and fill out the form with the requested data. After filling in, do not forget to click the "Submit" button.
You will receive an almost instant email that will put your reservation in pending status. Once the reservation is reviewed by our team we will send you a last booking confirmation email.
Will the driver wait for me? And in what place of the airport?
Yes, the driver will wait for you as he will track your flight in real time. If there are delays do not worry, he will know.
Airport to Fatima: The driver will wait for you next to the arrivals area of the Lisbon airport, next to the Vodafone store and he will be with a placard that will show your name.
Lisbon hotels to Fatima: The driver will be with their taxi at the hotel's main entrance, or near the main entrance.
Where is the taxi parked just after finding the driver?
Our taxi that will take you to Fatima, is parked in the parking lot that is closest to the arrivals area of Lisbon airport. Unlike other companies that to save money choose to park their vehicles far from the Lisbon airport causing their passengers to walk hundreds of meters to reach their vehicles, with us this does not happen! As soon as you find the driver you'll just have to cross the pedestrian crossing! That's right, across the walkway you will find a large car park and our taxi is there.
How many kilometers and how long does a taxi take from Lisbon to Fatima?
The taxi trip from Lisbon to Fatima takes 1 hour and 5 minutes and is always held on the A1 motorway during 120 km. This is the fastest and safest road to Fatima. There is usually no traffic on this road, which means that the journey is always done at a constant speed.
Cost of a taxi from Lisbon to Fatima? Do I need to pay tolls or other extras?

No! Our final price of the trip by taxi from Lisbon to Fatima or vice-versa already includes all expenses.
This means that you will only pay 129 € if you use a vehicle with up to 4 passengers or 179 € if you choose a vehicle with up to 8 passengers.
---