Taxi from Lisbon to Fatima – 24/7 Online Bookings
Are you looking to book a taxi to take you from Lisbon to Fatima? Look no further, you can count on us!
The Sanctuary of Fatima is one of the main symbols of the Christian faith, receiving thousands of pilgrims every year not only on the most special dates such as the 13th of May and the 13th of October, but also on other days of the year, especially for those who prefer a quieter and more private visit, away from the conglomerates.
The taxi transportation is the fastest and most direct way to reach Fatima either from Lisbon airport or any other point in the city of Lisbon.
If you are looking for a reliable taxi company to transport you from Lisbon to Fatima, then we maybe what you are looking for. We are a portuguese taxi company and we transport passengers to any place in Portugal using the traditional Portuguese taxis (with the colors black and sea green).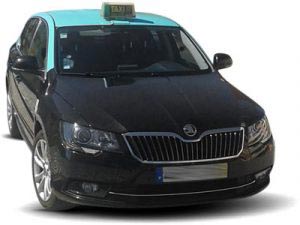 This itinerary from Lisbon to Fatima is one of the taxi trips that we are available to take at any time and date.
How our taxi service works
We usually pick up our clients at Lisbon hotels, or at the Lisbon airport arrivals area.
In Lisbon airport:
Our driver will track your flight number online and will know exactly when your plane will land at Lisbon airport. He will be waiting for you in the meeting point (yellow sign) in the arrivals area, he will have a tablet showing the name you used in the booking process.
In Lisbon accommodations:
In our hotel pick-ups the process is similar, our driver will be with his taxi at the main door of the hotel.
Not only do we collect at hotels in Lisbon city, but we also collect passengers in the outskirts of the city, such as Cascais, Sintra…
The transportation by taxi from Lisbon to Fatima is more expensive than bus or train, but it is faster, more direct, private, and more comfortable than any other type of transportation.
See below the advantages of our service and if you want to make your free booking you just need to press the "Book Now" button below or in the middle of this page. You will be redirected to a page that contains a form that you will have to fill out and submit to us.
Advantages of booking with us your taxi from Lisbon to Fatima
Vehicles in good condition with low emissions
All our vehicles are very recent taxis, clean, and with air conditioning. Our vehicles have capacity for 4 passengers and 4 suitcases, however, if you are traveling with groups we can also have vehicles with greater capacity.
We only use quality fuel in our taxis. Fuel with additives that allows to reduce pollutant emissions as well as helping to improve the performance of the engine.
Professional drivers
All our drivers are friendly and ready to help you with your luggage or any other problem. All our drivers had a period of 120 hours of training in order to be able to perform their function in the best way.
Avoid queues to catch a taxi at Lisbon airport
In addition, this booking also allows you to save time and gives you more comfort, as you will not have to wait in line to catch a taxi in Lisbon airport. At some point of the year it can be quite uncomfortable with long queues to catch taxis.
Our prices are lower than the normal taxi fare
Our price is fixed at 124 euros for a 4 passenger taxi, or 179 euros for an 8 seater taxi, without any hidden fee on both prices. We already include the tolls price on this value, as well as all other legal taxes.
Comparing with taxis using the taximeter, and assuming they use the shortest route, they will charge you on average 141 euros from a taxi trip from Lisbon to Fatima, and this price already includes the tolls.
In the worst scenario, if your trip is on a Saturday, Sunday, or any Portuguese holiday, then your trip will cost approximately 150 euros.
In the best case scenario you can pay 132 euros if your taxi travel will take place in a working day during daytime hours.
You can enjoy free internet through Wi-fi
You can access internet for free during the entire taxi trip from Lisbon to Fatima this way you can turn off your mobile data and connect to our internet connection entirely for free.
We also provide our customers with bottled water also for free.
Private Taxi
Avoid buses full of people and travel with us on private transport. Our driver will track your flight and will be waiting for you with a sign with your name next to the arrivals area of Lisbon airport.

Service Door to Door
More direct transportation is impossible! Our driver will pick you up from the Lisbon Airport or your Hotel in Lisbon and he will take you directly to the door of your Hotel in Fátima.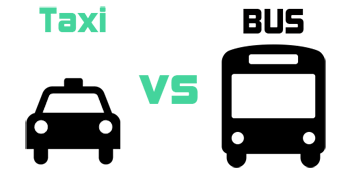 Faster than bus
It takes 1h00 to get to Fátima from Lisbon by taxi. In case you prefer the bus it will take you 1h30 (just the trip on the highway). Besides the time of travel there are other factors that delay the arrival to Fátima: If you arrive from the Lisbon Airport you will need to go to the Sete Rios Station (25 minutes from Lisbon Airport) plus the time of waiting in the queue to buy the tickets + waiting for departure.
As soon as you reach the bus station in Fatima you will have to walk to your hotel or wait for a taxi. In total it will never be less than 2 hours and 25 minutes.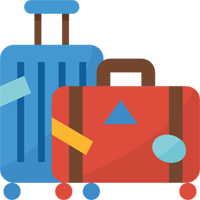 More confortable
Avoid walking with your luggage from side to side. With our service you just have to put your luggage inside the taxi's luggage compartment, and then go directly to your Hotel in Fatima.
If you are convinced that the taxi is the best option for your trip to Fatima, then click the button below and fill in our booking form that will give you the instructions on how to find our driver at the Lisbon airport.
Note: This is a free reservation. the payment of the trip will have to be made to the driver in cash at the end of the trip.
Possible questions asked by our customers:
How do I get from Lisbon airport to Fatima?
Taxi is the fastest way to get to Fatima from Lisbon Airport. Other means of transportation involve having to take several different type of transport to get to Fatima.
How much it costs a taxi from Lisbon airport to Fatima?
Our taxi fare from Lisbon to Fatima is 124 euros in a taxi with capacity for 4 passengers and 4 medium suitcases.
This means that our fixed price is 17 euros lower than the average value of a taxi from Lisbon to Fatima.
If you are arriving with a group then we also have taxi vans with capacity for 8 passengers and 8 medium suitcases.
The taxi price for each van is 179 euros, with all fees already included in this final price.
Our taxi price remains the same, doesn't matter if the trip starts from Lisbon airport or from any other place in Lisbon.
What if my flight lands at an unexpected time?
There is no problem if your flight arrives before or after the expected time. That's why we ask you for your flight number during the reservation process.
Our driver, through online tools will follow your flight in real time, that means he is aware of any landings outside the agreed hours.
How can I pay my taxi trip?
Booking your trip through our pages is free. You only have to make the payment at the end of the trip to the taxi driver.
We only accept payments in cash and only in euro currency.
Which road the taxi driver will use from Lisbon to Fatima?
We have a policy of always choosing the safest roads on all the itineraries we take on a daily basis. On this Lisbon to Fatima itinerary things are no different.
The entire taxi trip will be carried out on the A1 motorway/highway, which is an excellent and very safe road.
This road is also the fastest way to get to Fatima. Through A1 not only do you travel fewer kilometers compared to the alternative roads, but also the average speed is higher because it is a motorway/highway.
If you do not book with us and you prefer to take a taxi from the taxi rank at Lisbon airport, then we recommend that you tell the driver to take the A1. Some taxi drivers choose the alternative roads such as IC2 and N118, just because the distance is greater and then they manage to make more profit, however, these same roads are more dangerous than traveling on the A1.
How far is the Lisbon airport from Fatima?
Fatima is located in the center of Portugal, at 121 kilometers at north of Lisbon city.
How much time it takes from Lisbon airport to Fatima?
Our taxi will take 1 hour and 10 minutes to reach Fatima from Lisbon airport. In case your trip starts from the center of Lisbon city, then you can count only in an extra 15 minutes.
There are stops during the taxi trip?
Our trip is done without any interruptions. Since it is a journey of only 1 hour and a few minutes, there is no need to stop to rest.
We also do not stop to pay tolls manually, unlike other taxis. Our taxis have a chip that registers the passage at tolls and charges the amount automatically, in this way it allows us to save a good few minutes in order to get to Fatima faster.
Should I expect high traffic during this travel from Lisbon to Fatima?
No, the route that your taxi will perform through A1 does not have high traffic, in fact the level of traffic is low, there may just be some traffic on the way out of Lisbon airport but nothing to worry too much about.
On special days like the 13th of May and the 13th of October, Fatima gathers hundreds of thousands of pilgrims, so on your arrival at Fatima there may be some traffic jams, but no big deal, at most you will lose 20 minutes till you reach your accommodation.
The taxi driver knows this very well, and has perfect knowledge of the roads within the city of Fatima, and as such he will do his best to avoid the traffic during these special days.
Curiosities about Fatima
Did you know the Pope John Paul II was the Pope who most often visited Fatima? John Paul II was in Fatima three times, and the truth is that he knew very little about the history of Fatima until the day he was the target of an assassination attempt on May 13, 1981 in the Vatican.
This date, May 13th, is also the date in which Our Lady of Fatima appeared for the first time to the young shepherds in 1917.
The Pope believed that his survival from the shooting was due to the Virgin and the following year he visited Fatima to thank the Virgin.
In 1984 the Pope John Paul II delivered the bullet that had pierced him to the Bishop of Fatima which was later placed in the Virgin's crown and remains there to this day.
---