Transfer from Lisbon Airport to Fatima – 24/7 Transfers
Looking for a realiable company for your transfer from Lisbon airport to Fatima? If yes, then you are in the right place!
We are a fully licensed portuguese taxi company and we operate in all the portuguese territory through taxis with the obligatory legal colors of black and sea green.
The transfer from Lisbon airport to Fatima is done with the utmost responsibility and professionalism through experienced drivers in modern vehicles with an excellent state of cleanliness with all the comfort on board (free Wi-Fi, air conditioned, and free water), and we always use the highest quality roads due to their safety and most of the time they are also the fastest.
Our transfer Fatima service can have as a starting point the Lisbon airport or any hotel in Lisbon, and we have all the availability to bring you back to Lisbon on your return journey from Fatima.
Simple and Easy booking!

Door to Door Service;
Our transfers to Fatima from Lisbon are fully direct and private, you do not share the transfer with unknown passengers and we take you directly from Lisbon airport or from any hotel to your accommodation in Fatima. No stops.

Experienced Drivers;
Our team of drivers has been carefully selected. Firstly, they are all licensed and identified drivers at the official institute of Portuguese mobility. This means that in order to be taxi drivers they had to undergo an vocational training of more than 100 hours and in which they have successfully passed.
Their certification proof as well as identification must always be visible on the taxi dashboard so that passengers can see it.

Avoid taxi queues at Lisbon airport;
Lisbon airport is the busiest airport in Portugal, every year the number of passengers increases, there is always the normal confusion of an airport with so many people. At some times of the year, or when there are big events, may be a bit more chaotic. To catch a taxi, you have to wait in line and when you get the taxi there is no guarantee of the quality of the vehicle, and driver.

Payments in cash or credit/debit card through our terminals.
You do not have to pay online! Our online booking is free, you only pay once you arrive at your destination in Fatima. You can pay in cash or through debit or credit cards.
---
What is the nearest airport to Fatima, Portugal?
The nearest airport to Fátima is Lisbon airport which is roughly 121 km from the Fatima Sanctuary area and takes about 1 hour and 5 minutes using the fastest and also more direct road (the A1 motorway).
How long does it take a private transfer from Lisbon to Fatima?
It takes about 1 hour and 5 minutes to go through the 121 kms that separate these two historic cities.
The trip between Lisbon and Fatima is done by the A1 motorway. This ensures greater safety and comfort throughout the transfer.
This A1 motorway is of excellent quality and the level of road traffic is low, so the transfer from Lisbon to Fatima despite the long distance is quite comfortable and relatively fast.
What is the price of a transfer from Lisbon to Fatima?
The price of the transfer from Lisbon to Fatima is 129 € in vehicles for up to 4 passengers. If you need a vehicle of up to 8 passengers the price is 179 €.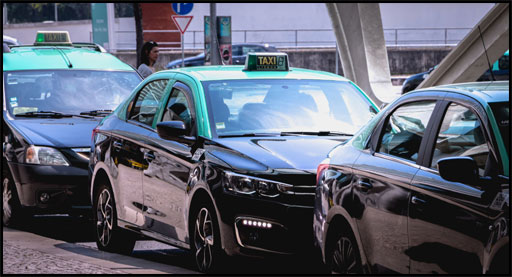 You can bring with you 5 suitcases for the vehicles of 4 passengers, and 10 suitcases for the vehicles of 8 passengers.
Small suitcases can be transported inside the vehicle instead of luggage compartments.
This price is fixed. This means there are no hidden extras. Tolls, luggage, VAT and all other fees are included in this final price!
How can I find the driver at the airport or in Lisbon hotels?
Finding the driver is easy and simple…
If your transfer starts from Lisbon airport, then the driver will wait for you in the arrivals area of the airport next to the Vodafone store. He will have a sign displaying your name so that you recognize him.
In Lisbon or Fatima hotels, the driver will be with their taxi at the main entrance of the hotel.
How to book your transfer to Fatima through our website?
Click on the big button below "Book Now" and fill out the form with the details requested and as soon as you finish click on "Submit".
You will receive an almost instant email that will put your reservation in pending status. Which means your reservation is awaiting review from our team. As soon as the booking is reviewed and if everything is correct you will receive a last email that will fully confirm your reservation. Simple…
---