Private Transfer from Lisbon to Lagos- 24/7 Taxi Transfers
Lagos is home to some of the best beaches in Portugal, this city is located in the southwestern region of the Algarve at 2h55 minutes from Lisbon on a non-stop trip by taxi with a price of 319 euros for up to 4 passengers.
If you are looking for a private transfer from Lisbon to Lagos, then you can count on us to help you. We are a taxi firm based in Lisbon and we are always available to transport individuals or groups in a private transfer from Lisbon to Lagos.
Our booking process is very fast and simple, we just need some essential data about the trip.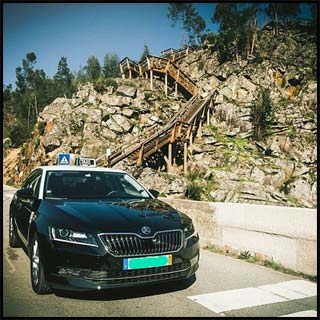 We usually pick up our passengers at hotels in the Lisbon region, or at Lisbon Airport in the arrivals area.
Below you will find extensive information about our private transfer from Lisbon to Lagos, as well as our tips on the best places to visit in Lagos.
Modern vehicles for your transfer
Our transfer from Lisbon to Lagos will be made on licensed taxis that are relatively modern, and they all meet the requirements to receive passengers safely.
In addition to being regularly maintained by us, they are also subject to mandatory annual tests by Portuguese law.
It is also important to mention that our vehicles only travel on safe roads. In our varied itineraries we always avoid the most unsafe roads.
Your driver is well trained
Our driver admission policy is strict, we like to have the best drivers.
For us, the best drivers are those who are able to guarantee safe and efficient trips, complying with schedules.
In addition to our strict selection of drivers, it is also important to note that all drivers are duly licensed by the Portuguese Institute for Mobility and Transport. In other words, they underwent several tests and were successfully approved to drive taxis.
Cheaper than regular taxis
The price of a regular taxi for this trip is higher than our fixed price.
For example, if we used the taximeter on this trip, the final price would be approximately 330 euros on weekdays during the daytime.
At night times during weekdays, and all day during weekends and holidays would be approximately 387 euros.
Free Wi-fi & Bottled water
Throughout the trip between Lisbon and Lagos you can enjoy free internet, as well as free bottles of water for each passenger.
Needless to say, that all cars have air conditioning that can be turned on if necessary.
Reservation is free
We do not accept advance payments, you only pay for your trip when you arrive in Lagos.
Payment is made to the driver in cash.
What is the price of the private transfer from Lisbon to Lagos?
The price of the transfer is 319 euros and the taxi can take up to 4 passengers and 4 medium suitcases.
This final price already includes all other extra fees, such as tolls.
The van with capacity for 8 passengers and 8 medium suitcases has a price of 397 euros, a price that also has everything included.
We can pick you up at Lisbon airport. See how it works.
If you are arriving at Lisbon airport and you need a transfer to Lagos, then you can count on us.
We will pick you up in the arrivals area next to the yellow sign that says "meeting point".
The driver will have a tablet displaying the name you used in our booking process. He will also follow your flight through online tools and he will know exactly when you will arrive.
The most notorious advantage of this transfer service is that you will avoid having to wait in a queue to catch a taxi at the taxi rank on Lisbon airport, something that can take about 30 or 40 minutes after your arrival.
In addition to all the other advantages mentioned above, such as a lower price than a regular taxi.
How much time it takes the transfer from Lisbon to Lagos?
It takes approximately 2h55 minutes to get to Lagos directly from Lisbon, and the distance traveled is about 301 kilometers.
We have reduced the time as much as possible, for example, our cars do not stop at tolls to make manual payments, as the payment chip is already installed in the vehicles.
During the trip should I expect high traffic periods?
In Portugal the road traffic is much lower than in the rest of Europe. It's nothing to worry too much about. On this particular trip, there may only be some traffic on the way out of Lisbon between 5pm and 6pm on working days, and for the rest of the trip there is no traffic to Lagos.
What road is used in this transfer?
We always focus on using the safest roads and also the ones that allow us to get to Lagos faster.
The majority of the trip will be made through the A2 which connects Lisbon to the Algarve region, and as soon as we reach the Algarve we switch to the a22 which will connect directly to the city of Lagos.
Both roads are highways/motorways and their quality is excellent.
It is also important to mention that we could lower our tariff and maybe have more customers because there is a cheaper alternative route, through N121. We didn't choose this route because it's slower, although it has fewer kilometers, and there are no tolls.
The main reason is not just because it's slower, but above all because it's more insecure than A2.
There are any stops during the travel?
Yes, there are service areas along the A2.
We can make the direct trip without stops, or with a stop in between, it's whatever the passenger wants.
In case of a stop, we recommend the service stations of Aljustrel at 147 km or Almodovar at 187 km.
What Lagos has to offer you
Lagos is mainly a family destination that combines the very sunny climate with the beaches of transparent water.
Unlike Albufeira which has a busier nightlife, Lagos has a more familiar atmosphere and offers several activities for families.
Although in winter the temperature drops considerably, the beauty continues, as there are plenty of sunny days even in winter, and very little movement compared to summer and autumn seasons. It becomes an authentic paradise that seems to be just for us.
Praia do Burgau and Salema
Well, these two beaches are the hidden gems of Vila do Bispo (sorry).
Everyone knows that Lagos has several quality beaches, and we apologize for deviating a little from Lagos… But these two beaches are very beautiful, although they are located next to Lagos, in the municipality of Vila do Bispo. Which means you'll find fewer people on these beaches even in high season instead of the beaches in Lagos. This is because Vila do Bispo has little fame among tourists compared to Lagos. Very little fame in fact.
Burgau is 12 kilometers away from Lagos, and Salema has a distance of 18 kilometers from Lagos.
Now in Lagos… Praia de Porto de Mós and Praia do Pinhão
Praia do Pinhão is a less popular beach near the famous beach of Praia de Dona Ana.
It is perhaps one of the most relaxing beaches in Lagos, precisely because it is surrounded by a completely natural environment… The famous cliffs of Algarve.
Alternatively, you have the Praia de Porto de Mós, which is a large beach, the second largest beach in Lagos.
It's a perfect beach for hiking, the only downside is that due to its wide extension and the fact that doesn't have the natural cover of the cliffs, it ends up being windier in relation to the Praia do Pinhão.
Lagos Zoo
For those who want to alternate between the beach and other interesting activities, there is an excellent alternative for those with children. The Lagos Zoo displays several animals, including animals present in the Iberian Peninsula, such as the Iberian Lynx, an endangered animal, that is extremely hard to find due to his shyness.
Golf Camps
The Algarve is also known as one of the best places to practice golf in Europe. The good weather during many months throughout the year help golf enthusiasts to practice this sport under the best conditions.
In Lagos you have two excellent golf camps, Boavista Golf and Palmares Golf.
Algarve golf peak season starts in March and goes until May. October is also a high season month.
Lagos Old Town
Right after your transfer from Lisbon to Lagos this is our recommendation for your first day, getting to know the city of Lagos. Here is where you will find most of this small town's commerce like restaurants, bars and all kind of stores…
Also you will find the cultural side of Lagos with museums linked to the season of Portuguese discoveries.
Other tips about Lagos…
Keep in mind that water in Lagos isn't warm at all. If you're looking for better water temperature you should come to Lagos in September and early October.
The southeast part of Algarve has better water temperature than Lagos, and the period of less cold waters is the same as Lagos, during the summer time, or even better in September and first weeks of October.
We hope all these tips will help you to enjoy Lagos in the best possibly way shortly after your arrival from our transfer from Lisbon to Lagos.
See more about Lagos on the municipality's website.
---